This DigiClean Cleaning Kit combines NASA approved Lens Cleaner with advanced Microfiber Technology and our unique Ultra Lipstick Brush
Three simple steps keep your camera and lens clean and your photos sharp:
First, clean all surfaces with the Ultra Brush. It's perfect to gently remove dust and debris from your lens and all the little control buttons and bezels.
Second, put a drop of Formula MC on the DigiClean MicroFiber Cloth and clean lens and LCD screen using a gentle circular motion.
Third, polish all surfaces to an ultraclean shine with a dry section of the cloth.
It's like an insurance program for your digital camera. Keep your camera and lens in pristine condition and your photos will be sharper and your camera will be worth far more if you ever choose to sell it to move on to the latest and greatest.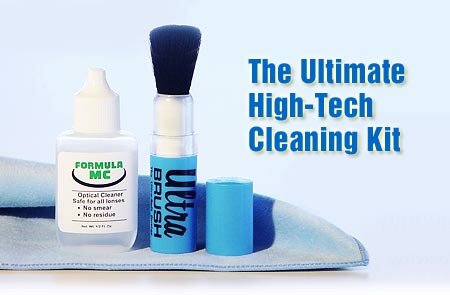 The Ultimate Camera and Lens Cleaner Kit



This is the most complete high-tech camera cleaning kit that you can literally stick in your pocket! This state-of-the-art Kit offers the most recent high technology solutions to keep your images as sharp as possible, your entire camera spotless, and your camera's lens and LCD screen impeccably clean.
Formula MC has been tested and approved by NASA at the Johnson Space Center for use on the Space Shuttle! It cleans even the finest multi-coated lenses spotlessly clean with the utmost safety.
There's just no other brush like the Ultra Brush! It's guaranteed to be the softest lipstick style brush you can buy. Retracts fully for optimal bristle protection.
The DigiClean MicroFiber Cleaning Cloth is the result of the latest microfiber technology and effortlessly lifts away grease and dirt from lenses and LCD surfaces safely and quickly. It is chemical free and can be washed repeatedly (do not use fabric softener) and still remain soft and effective. It is absolutely safe for all glass and plastic lenses.
| | | | | |
| --- | --- | --- | --- | --- |
| There is no other brush like the Ultra Brush! The Ultra Brush is totally different than standard camel hair brushes. Its unique fibers are ultra soft for cleaning the delicate surfaces of camera lenses, LCD screens, and other delicate surfaces. It fully retracts into the base to completely protect the brush ends from contaminents. | | The different microfiber cleaning cloth. Eight inches square, made of a special blend of polyester and polyamide. One strand is 10 times finer than silk and 100 times smaller than a human hair! Specially engineered triangular fiber shapes provide superior cleaning action! The gripping forces of these surfaces whisk away oils and smudges leaving the surface perfectly clean. | | World's No. 1 multi coated filter and lens cleaner! This proprietary formula is specifically designed for today's high tech multi coated lenses and filters. It is recommended by top pros. Safe for all lenses and filters, it will not harm delicate coatings, and does not smear or leave a residue. Approved by NASA for use on the Space Shuttle! One half ounce dropper bottle. |
Pay securely with any major credit card:
We do ship internationally but please to request the proper shipping amount for your order.
ClamperPod.com ?

Question or comment?
We'd love to hear it >
100% SATISFACTION GUARANTEED
If you are not happy with your purchase for any reason simply return it,
including product packaging, for a full refund or replacement.