Our customers
are saying
great things
I got my ClamperPod2 the other day and finally got a chance to try it out!
I attached my 8mm video camera to it and then mounted the camera to the roll bar of my motorcycle.
I was not prepared for the AMAZING footage I got from my camera!
This little device has opened up a whole new world to me now.
The ability to shoot myself while riding (mounted to the handle bars) or to just about any part of my bike!
I can mount it to the tail gate of a truck and shoot myself riding with someone ahead driving the truck.
Mount it in a tree then drive under it for a great overhead shot, or just shoot from the fairing on my bike!
I may never lug a regular tripod around with me again!
Just wanted to thank you guys for a GREAT AMERICAN MADE product!
Michael Long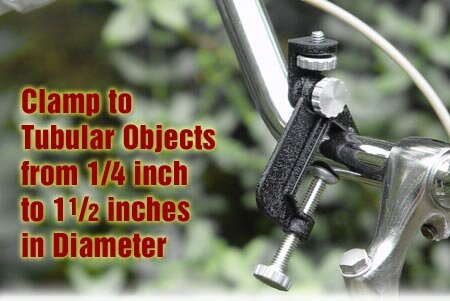 Now you can carry a camera tripod with you all the time without lugging cumbersome gear around. Just like the Original ClamperPod, the ClamperPod2 is made of heavy-duty die cast aluminum alloy.
The only difference is the radius cut into the clamping surface. The ClamperPod2 mini tripod is strong enough to hold even the heaviest cameras, but weighs only 2 ounces. Not much bigger than a business card, it fits into pocket, purse, camera bag, backpack or briefcase with room to spare. Attaches to any still or video camera with a standard 1/4x20 tripod socket.

In the center photo above, a ClamperPod2 is attached to the light stand on the left and an Original ClamperPod is fastened to it (head to head) using a 1/4x20 coupling nut. The Original ClamperPod (on the right) holds a circular diffuser (padded with a little cardboard) to soften the light on the subject.
If you're a professional photographer, or just have lots of gear... slave flash, strobe, diffuser and reflector, or any other accessory that has a tripod socket, a few of these are a lot easier to handle than a bunch of tripods and light stands.
The ClamperPod2 is a solid tool built to last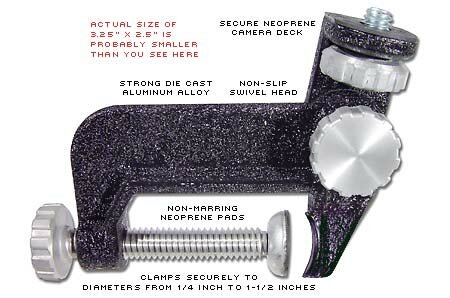 Pay securely with any major credit card:
We do ship internationally but please to request the proper shipping amount for your order.
ClamperPod.com ?

Proudly made in the U.S.A.

Question or comment?
We'd love to hear it >
100% SATISFACTION GUARANTEED
If you are not happy with your purchase for any reason simply return it,
including product packaging, for a full refund or replacement.



For 17 different mini tripods and the best full size digicam tripod on the market, please see our other site: minitripods.com

---
Don't miss these other great camera accessories...


Precision Mini Ball Head
Supports up to 5 pounds securely and offers an infinite range of motion.


DigiClean LensPlus!
Advanced microfiber cloth, Formula MC lens cleaner used on the Space Shuttle, and a unique ultra soft lipstick brush.


PocketPod
This unique mini tripod features a new design concept that just works better!


LensPen miniPro Advanced Cleaning System
Award winning non liquid cleaning compound safe for all lenses and delicate coatings.


Original ClamperPod
You don't need to lug your big tripod with you. You can always find something to clamp to!


StickStash Memory Stick Case
Store and protect up to 4 memory sticks.


daProtector
Protect your LCD from scratches and breakage. Use the selector to find a model for your camera.