You need to keep your "film" protected and within easy reach.
If your camera uses memory sticks, they are your film, and this little case is the perfect place to keep them!
Protects from the elements.
Features a secure snap lock closure.
Safety chain with spring loaded clasp.
Small size fits easily into pocket, purse or camerabag.


Stores up to 4 Memory Sticks
This handy little media case is custom designed to hold and protect up to 4 memory sticks. The translucent blue polypropylene case is fitted with molded synthetic rubber inner trays. Each of the 4 form fitting compartments gently hugs each memory stick while absorbing shocks for maximum protection. When closed it measures slightly over 2 inches wide by 2.5 inches long by less than 3/4 inch thick.


Memory Sticks are easily stored and removed
The storage compartments have special features at each end to facilitate easy media removal. At one end the bottom of each compartment slopes downward at a small angle. Just a gentle push down on the end of the memory stick will make the opposite end pop up slightly. Then the circular recess in the compartment provides easy access to the memory stick allowing it to be lifted out gently without applying excess force.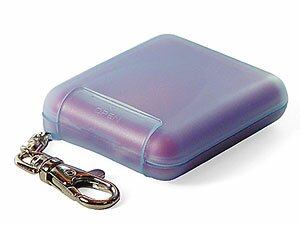 Pay securely with any major credit card:
We do ship internationally but please to request the proper shipping amount for your order.
Proudly made in the U.S.A.

Question or comment?
We'd love to hear it >
100% SATISFACTION GUARANTEED
If you are not happy with your purchase for any reason simply return it,
including product packaging, for a full refund or replacement.